Published on:
2 November 2020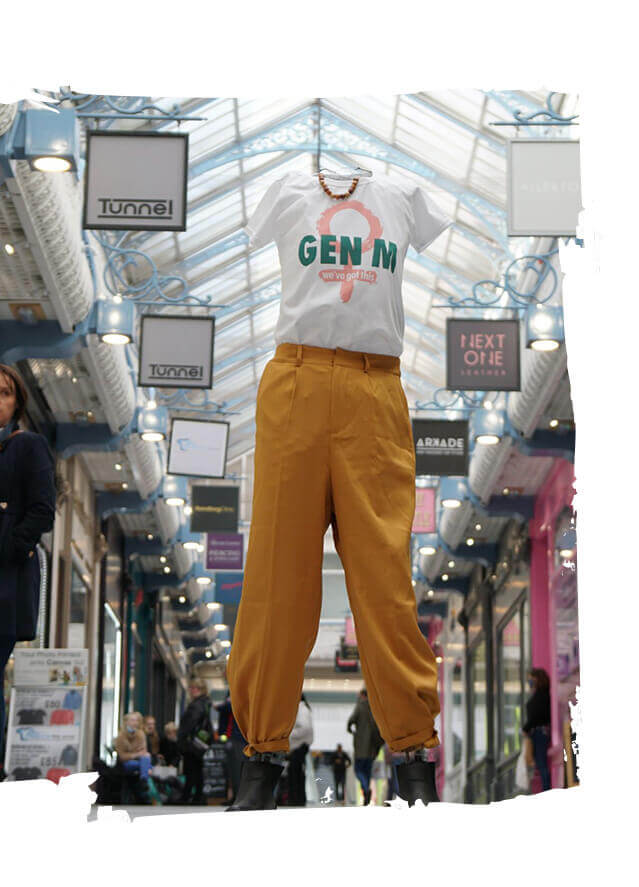 Evidencing the shocking neglect and disregard for the 13 million menopausal women in the UK today
GEN M's Generation Menopause: The Invisibility Report has landed, a rallying cry on behalf of the 'invisible' community of mid-life women – the 87% of menopausal women who feel overlooked by society, who are unable to find the support they need from brands, retailers, employers or even loved ones, whilst struggling with debilitating physical, emotional and mental symptoms.
Whilst the menopause is a natural transition and fact of life for almost all women – with an estimated one billion women expected to be in menopause globally by 2025, GEN M finds it deeply troubling that an air of mystery continues to shroud the subject and the perpetuating relationship this taboo has with the lack of resource for those experiencing menopause, from brands, retailers, employers and wider society.
The nationwide research, conducted amongst 2,010 women aged 35-60 years old, discloses a new depth of insight and uncovers the stark truth regarding women's experiences of the menopause. This white paper evidences the irrefutable lack of support, education and knowledge on the menopause, as well as the extent to which the women in our society are suffering in silence – 10% for which the agonising transition lasts up to 12 years.
The Invisibility Report is a statement of our promise to the 13 million women currently going through the menopause, to those who have experienced it, as well as the generations of women to come, that GEN M will no longer allow them to feel invisible or suffer in silence. We will drive greater awareness and understanding, through easily accessible and more inspiring information, to better service, guide and support our tribe, as well as inspire others to action change. We promise to finally shed the menopause of its taboo reputation. Together, we've got this.
13 million women currently going through the menopause.

The truth about the menopause taboo:
Invisible at home, invisible at work, invisible across society
The 8 out of 10 menopausal women in work – the fastest growing demographic in the workforce today – appear to be the most significantly impacted. Over half of career women (55%) said the perimenopause made them feel invisible. Those whose career was on a high when it began were significantly unprepared (90%), knew almost nothing about it (83%) and for 85%, it negatively impacted their relationship with their spouse or partner.
Shouldn't we be doing more as a society to support women at the peak of their career? We cannot continue to shatter the glass ceiling and strive for gender equality both within and beyond the workplace if we do not acknowledge a remarkably obtrusive experience, which inevitably all women will go through, and has the power to inhibit their capacity to fulfil and exceed their full potential.
Our research found that society's stigma around the topic is having a grave mental and emotional impact on women going through the menopause with 41% feeling 'lonely, invisible, irrelevant and dispensable'. Furthermore, half of menopausal women (49%) feel anxious, 40% feel unattractive and 40% lack confidence. These are alarming insights to the 'invisible' impact of the menopause on mental health, particularly troubling with our understanding that women aged 50-54 have the highest suicide rate in the UK.
When asked how much those around them knew about the mental and emotional effects of the menopause, 75% said their children knew nothing or very little, 67% said their partner knows nothing or very little and 52% said their employer knows nothing or very little. This clarifies the importance of inclusivity, that responsibility needs to be shared – wider society and support networks must recognise their role in learning and understanding the menopause to provide the support that is so greatly needed. GEN M is aware of this, which is why our platform has been created as a resource with the network of partners, family members, friends, colleagues and wider society in mind, who have someone they care for experiencing the menopause.
When asked what would be most beneficial for women going through the perimenopause and menopause, 94% said society being more open, 93% said friends and family being better informed, 90% said brands working harder to be inclusive and cater to menopausal women and 88% said workplaces being better set up to support menopausal women. These findings escalate the pressing need for an all-encompassing resource like GEN M, to support not only those experiencing the menopause first-hand but to educate brands, retailers, employers and support networks – who all have a responsibility in instilling societal change for the future.
The Invisibility Report corroborates the indisputable need to better the menopause experience, starting now. As Heather Jackson, Co-Founder of GEN M, explains; "Our research has substantiated what we already thought – that society is letting down women when they need support the most. Evidently, women in their mid-life feel overlooked by society and unable to find the support they need from loved ones, employers or brands, whilst struggling with debilitating but often invisible symptoms."
Co-Founder Sam Simister adds; "We launched GEN M with an overwhelming belief that women deserve better and that we all have a duty in making this life changing transition that little bit easier. We are not invisible; we are Generation Menopause and through collaborative partnerships, together, we can navigate this."
GEN M hopes The Invisibility Report inspires others to not only be a part of the conversation, but part of sustained change. An enduring theme that this research brought to light, is that the menopause not a gendered issue but a societal one. Collaboratively, we can change the resounding rhetoric and dismantle the taboo on this confusing and often lonely transition – with the support of families, friends, experts, medical professionals, employers and brands.